Hello! Rachel here from RV Parties to share a fun, new concept — TWO different parties reusing many of the same decorations! Like many families, my boys have birthdays within a few weeks of each other and (of course!) they couldn't be persuaded to pick a theme for a joint party. My five year old needed a Batman Party and my three year old just had to have (his second!) Train Party. Because I knew I wasn't going to able to restrain myself and throw simple parties, I went ahead and decided to throw them their own individual parties but make them overlap as much as possible to keep the planning as easy as possible! Black, white and yellow are a natural color choice for Batman — and it was easy to design the train party printables to match.Some of our cost (and time!) saving measures were:
Using black and white as the main colors — black and white printing is much cheaper than color
Making double batches of treats for the dessert table
Reusing linens, serving pieces and decor
Using engineer prints as wall decor
Buying store bought treats to dress up and reusing the extras for the second party
Modern Train Party Details
Now without further ado, here's a quick look at each party, then a comparison of some of the changes. The train party was up first — one of my favorite details was this cupcake choo choo made from graham crackers and Oreos. As always, Heather from Fondant Fantasy knocked it out of the park with the fondant toppers! I'm shocked by how closely she matched our train silhouette and love the railroad crossing sign with the B and 3 rather than the RR.
The dining table for the train party was so fun to put together. We were able to collect lots of great black and white pieces to use in both parties. IKEA had a bunch of great items, like the placemats, fabric and little striped bowls. We used this black and white ribbon from Tutee's Ribbon all over the place, but I especially love the way it looks looped on the back of the chairs. Our house is covered with trains so I grabbed all the yellow and black ones I could find and stuck them in big glass jars to use as centerpieces along with some black silhouettes of our train.
Modern Batman Party Details
My five year old loved helping plan the details of this party — he pretty much just wanted bats everywhere! He helped me sew these sweet bat garlands that bridged the rooms with the dessert table and dining table. We used store bought Oreos and Whoopie Pies as some easy black and white treats. We were able to use the Oreos for both parties because there are a ton in the box! I just love the way the stacked Oreos fit right in with our black and white stripes.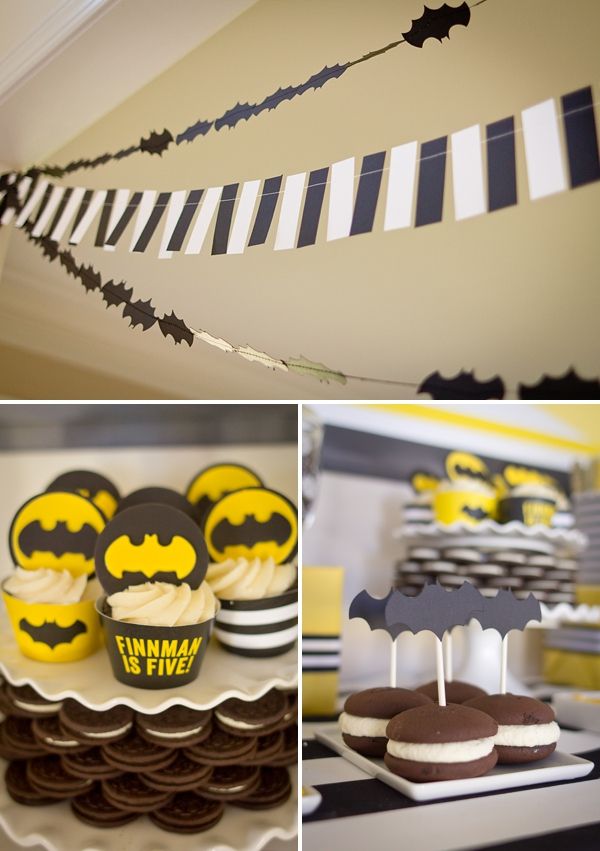 We changed up the chairs a bit for this party because you can't have a super hero party without capes! The details were really fun for this party — there were so many fun things we could do. The city skyline buildings were a fun project and looked really nice framing the dessert table.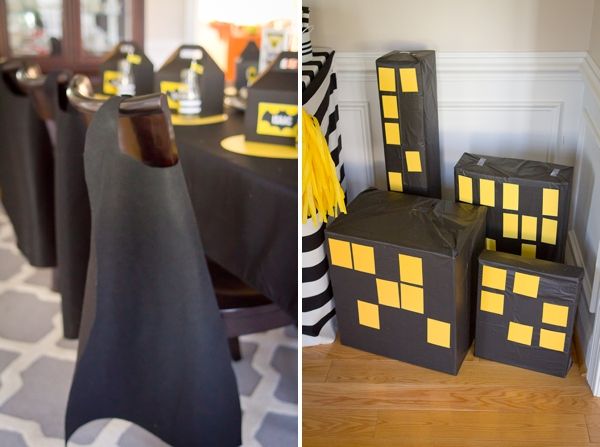 I loved the yellow confetti as a table runner — we used lots of yellow circles to act as our "bat signal" and they looked great on the black table cloth. The Batman sprinkles were adorable on the cupcakes as well. We loved the assortment of yellow, black and white sprinkles we found at The Bakers' Confection.
Two Parties, One Color Scheme
Let's breakdown some of the changes in the two parties. The goal in all my planning was to throw two fabulous parties and save myself as much time and money as I could in the process. I reused whatever I could, bought things in bulk when possible and tried to find thrifty alternatives that wouldn't break the bank. When you look at the two dessert tables they look fairly similar at first glance. We used the same striped fabric and yellow tassel garland (thanks Pom Love!) in both set ups.
For the train party, I printed a cheap engineer print to use as the backdrop and added some color with balloons and a yellow circle garland. The balloons didn't make it to the Batman party, but the yellow garland was incorporated into the decor by the dining table. I used a vinyl backdrop for the Batman party because I couldn't figure out a way to fake the yellow for the spotlight! It cost a little more but I think it was worth it.
You'll notice a lot of the same treats on the table, just rearranged. It's a lot easier to justify making or buying party items when you know they are going to be used twice. The chocolate sprinkled pretzels were easy to double — once you've already made the mess, it's not a big deal to make a few more! I also made double batches of lemon macarons, homemade marshmallows, dipped marshmallows and pretzel buttons. And they all stayed fresh when stored in the fridge for a few weeks!
I went through the bulk candy section and picked out candies to match the theme. The yellow and black licorices looked adorable in the apothecary jars! The non-pareils fit right in too. The jars were used on both dessert tables, just in different locations in an effort to make the tables feel more distinct. The striped popcorn boxes were such a great find that looked so cute filled up with our treats. I came up with clever names for the treats in the boxes and swapped out the little yellow labels for the different parties (Train Tracks changed to Poison Ivy's Vines for the licorice and the Railroad Ties changed to Penguin's Pretzel Sticks)! Bulk yellow M&Ms were used on both tables to fill ceramic candy dishes in the shape of the birthday boys' initials.
When ordering special custom treats like these sugar cookies, there's often a price break for ordering more. I adore these sugar cookies, and it was a much better deal to get them all at once rather than ordering them in two separate shipments!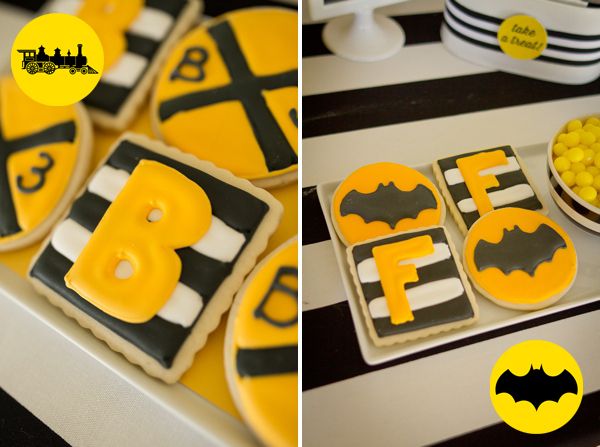 Same with these adorable treat bags from Sweets and Treats Boutique — the incremental cost to get a few more for a second party was small. Swapping out the labels was easy and gave them each a custom look.
Same general idea, two different themes. We love coloring walls and while it doesn't save any money to buy mulitple coloring walls, you do save a bit when reusing crayons and in gas if it saves you a trip to your local print shop. Coloring walls are such a fun, easy way to fill wall space and give kids a fun activity. They love it!
Here's a comparison of our dining table — the paper lantern garland stayed up for both parties and framed the room in such a fun way! I'm a bit obsessed with these gable boxes from the Homespun Hostess, in addition to being an easy way to serve kids a meal, they also serve as a great container to load up with excess treats at the end of the party. We styled them two different ways with different ribbons and placemats and I love the way they turned out. The glass bottles are reused Frappuccino bottles, which are perfect for dressing up any table and fit most water bottle labels. We got enough striped straws to use twice and customized them with our straw flags.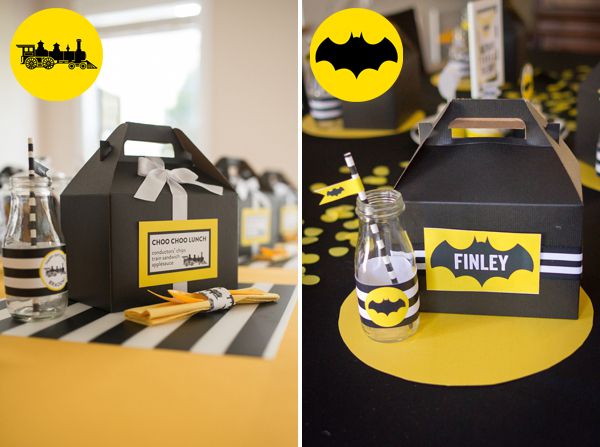 I like to put a few cupcakes on the dining table, they are always a fun centerpiece and make it easier to serve dessert after the kids eat their lunches! For the train party, we put them on a cake stand with some yellow sixlets, and for the Batman party, we put them on a striped plate. These IKEA frames are a staple in every party I style. They are a great, simple way to add some personalization to any party. And the cupcakes are such a bargain at Trader Joe's! Every time I try to make cupcakes, they end up being a disaster, so these gluten free chocolate ones always end up saving the day. They're cheap and delicious.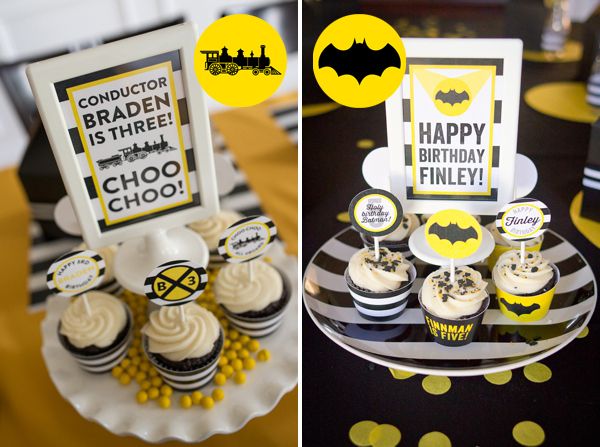 Behind the dining table, I used a large engineer print and garland as a backdrop for both parties. The garlands were rotated around for the parties and the engineer prints are eventually going to be reused as wall art in my kids' rooms. They were so excited about them!
A solid amount of the decorations and serving pieces were used in both parties — the black and white striped tablecloth, the yellow tassel garland, a bouquet of straws and the paper lanterns fit both themes so well and were so bright and lovely! I convinced myself that using things twice meant that it was all 50% off, which seems like some solid logic.
Whew! Thanks for reading along. It really was so much fun to put these two parties together and try to be as thrifty (with my time and money!) as possible. I think these ideas would carry over to a variety of themes, and even if the parties aren't super close you can still reuse decorations. It pays off to plan ahead!